Characterization

Instron 5969

This new software along with the instron 5969 allow for precise tensile measurements under various conditions.
Nicolet 6700 FTIR Spectroscopy
Now for gas,liquid, and solid absorbance measurements

X-Ray Diffraction
Our XRD setup allows for calculation of percent crystallinity, crystallite size, and characterization of phases of known materials.
services list
FTIR Analysis
Heat Treatment
Melt Pressing
Fiber Spinning
Rheology Analysis
Fiber Sizing
SEM Imaging
CVI Coatings
XRD Analysis
Instron testing
HPLC Analysis
GC Analaysis
On-Site Machine Shop
services overview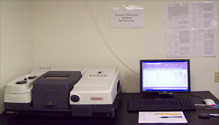 Fourier Transform Infrared Spectroscopy
A must have for polymer characterization, this tool measures absorbance over a wide spectrum. We offer both KRS5 and NaCl Plates for characterization.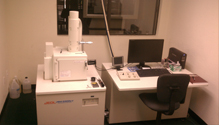 Jeol 5900LV Scanning Electron Microscope
This scanning electron microscope offers a 5D motorized axis with a large stage that also allows imaging under low vacuum.